"and what is the use of a book,' thought Alice, 'without pictures or conversation?"
~Lewis Carroll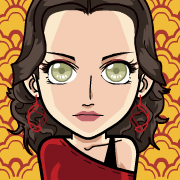 I'm a librarian who reads a lot of sci-fi and fantasy novels.  This site is to review what I have read and to offer commentary and perspective, as one cannot judge a book by its cover (unless it is a Michael Whelan cover).  My own biases may be evident in my reviews; I prefer to read books that are well-written and not horribly depressing.  My reviews are honest; if I don't like a book, I will say so and explain why.
If you have any requests, post a comment and I'll get back to you.  You can also contact me at grace (dot) troxel (at) gmail (dot) com.
A bit about me… I grew up in a very small town in Western Pennsylvania.  I received my BA in International Affairs and Russian Language and Literature from the George Washington University, and I've been living in the DC/NOVA area ever since.  I decided that politics wasn't for me and decided to become a librarian instead, and I'm currently working on my MSLS online through Clarion University of Pennsylvania.  I enjoy philosophy, tea, and shenanigans.
Happy reading!